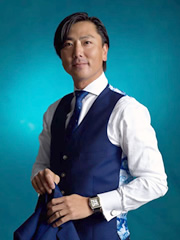 A Message from the President
Since our establishment in 1946, the main focus of Fujinetsu has been to satisfy our customers. Through our highly-capable and creative engineers, we revel in taking on challenges to create the most comfortable working environments.
Our engineers are air and water specialists with a proven record of safety and reliability.
We cover all aspects of your air and water needs, from design and planning, to construction and maintenance. We can create solutions for air-conditioning, water supply and drainage, sanitation, low-temperature equipment, and many other environmental needs.
By effectively leveraging our 75 years of experience and solid performance track record, we will strive to further refine our abilities to create the most comfortable work environments possible. Together, we will continue onward into the 21st century as leaders of environmentally conscious engineering.
Fujinetsu Co., Ltd.
Representative Director and President
Yasuyuki Kondo
Company Name
Fujinetsu Co., Ltd.
Representative
Director
Representative Director and President
Yasuyuki Kondo
Date Established
January 10th, 1969
Stated Capital
2 million USD (1USD=100JPY)
Osaka Head Office

1-1, Minamisemba 2-chome, Chuo-ku, Osaka City, Japan 542-0081

TEL +81-6-6261-2086
Construction
Licenses
Ministry of Land, Infrastructure and Transport License (Toku-3) Issue No. 15351 Pipe Contracting
Number of
Employees
256 as of October 1st, 2021
Number of
Qualified
Personnel
Class-1 Registered Pipe Construction Managing Engineers: 100
Class-2 Registered Pipe Construction Managing Engineers: 24
Primary Bankers
MUFG Bank, Ltd.
Mizuho Bank, Ltd.
Main
Shareholders
Fujikosan Co., Ltd.
Mitsubishi Heavy Industries Thermal Systems, Ltd.
Mitsubishi UFJ Capital Co., Ltd.
Directors

Chairman
Toru Kondo
Representative
Director
and President
Yasuyuki Kondo
Executive Directors
Hiromitsu Yoshida
Shinichi Matsumoto
Hideki Maekawa
Directors
Shunji Kashihara
Shinichi Yoshiyama
Nobuaki Suzuki
Executive Officers
Masakazu Oguri
Yasunori Yokota
Auditor
Masami Kondo

Sales Volume
(100 JPY = 1 USD)

September, 2021

100.3 million USD

September, 2020

107.4 million USD

September, 2019

120.9 million USD

September, 2018

107.9 million USD

September, 2017

109.9 million USD
Equipment Design
and Construction
Air-Conditioning Equipment

Air-Conditioning, Thermostat, Air-Conditioning and Heating, Ventilation, Smoke Control Systems, Heat Recovery Systems, Dust Removal, HVAC, Humidification Control, Industrial Clean Room, Solar Energy Systems, Thermal Energy Storage, Bio-Clean Room

Sanitation Equipment

Water Supply, Sanitation, and Drainage, Fire Extinguishing, Heating, Wastewater Treatment

Low-Temperature Equipment

Freezing, Refrigeration, Cooling

Warm-Bath Facilities
Air and Low-Temperature
-Related Sales
Freezer, Cooling Tower, Boilers, Air-Conditioning
Repair, Maintenance,
and Installation
of the Above

Repair

Air-Conditioning Equipment, Water Supply and Sanitation Equipment, Drainage Equipment, Low-Temperature Equipment Remodeling and Repair, Related Air-Conditioning and Low-Temperature Equipment

Maintenance

Scheduled Inspection, Equipment, Heating and cooling switches

Installation

Air-conditioning, Water supply and sanitation, Drainage, Low-temperature equipment, Related equipment

Remodeling
Multiple equipment diagnostics for degradation and energy-saving opportunities, Remodel design and construction
Consulting
Air-conditioning Technology Consulting, Low-Temperature Technology Consulting
1946
January
Establishment of the Fuji Firm
March
Fuji Firm is reorganized as a corporation
1948
July
Corporate name change to Fuji Denka Kogyo Co., Ltd.
1958
March
Tokyo Denka Service Co., Ltd. is Established in Tokyo
1962
October
Service arm of Fuji Denka Kogyo is spun-off and established as Fuji Denka Service Co., Ltd.
1963
December

Fuji Denka Kogyo and Tokyo Denka merge, resulting in a name change to Fujinetsu Co., Ltd.

1967
June
Opening of the Hamamatsu Business Office
1972
October
Corporate name of Fuji Denka Service Co., Ltd. is changed to Fujinetsu-Service Corp. Inc.
1973
January
Opening of the Nagoya Branch
1975
October
Opening of the Fukuoka Branch
1978
October
Opening of the Kobe Branch
December
Capital increased to 200 million yen
1982
October
Fujinetsu Kobe Service Center is established
1986
October
Fujinetsu Engineering Service Co., Ltd. is established
1991
November
Fujinetsu Kobe Service Center changes its name to Fujinetsu Techno Service Co., Ltd.
1997
October
Fujinetsu Engineering Service and Fujinetsu Techno Service are merged into Fujinetsu-Service Co., Ltd.
2001
July
Company-wide ISO 9001 certification obtained. continued till March 2015
2003
April
Tokyo, Nagoya, and Fukuoka Branches are integrated into Fujinetsu-Service Co., Ltd.
2004
April
Fujinetsu-Service Co., Ltd. becomes a Subsidiary
2006
April
South Kyushu Sales Office is established
2010
May
Company-wide ISO 14001 certification obtained. continued till March 2015
2013
April
Branch office established in Yangon, Myanmar
Joint venture in Western Japan Geothermal Power established and operational
2017
September
Minami Kyushu Sales Office is closed.
2018
August
Osaka Head Office is relocated.
(1-1, Minamisemba 2-chome, Chuo-ku, Osaka City → 1-3, Minamisemba 2-chome, Chuo-ku, Osaka City)